Read on to learn more about 3 home adaptations for independence covered by BC's HAFI program. Apply today and receive up to $20,000 in annual funding. 

Staying at home is a dream for most seniors or people living with a disability. According to a 2011 study by the American Association of Retired Persons, more than 90% of people over the age of 65 want to remain in their own homes.
And it's plain to see why.
Our home is much more than a place to go to at the end of a work day. It is our sanctuary; a place where memories are made and kept, and leaving it can often feel like leaving behind part of our history.
Besides that we also treasure our independence and freedom to look after ourselves and live out our lives exactly like we want. It is something we are taught to yearn for as we move from childhood to adolescence, and it is something we pride ourselves on as we become of age.
According to a 2010 study conducted by the Disabled Living Foundation, the fear of losing that independence as we get older and "becoming a burden on friends and family" is more daunting than the fear of death itself.
So how do we manage to stay in our own home and overcome the challenges of old age or disability?
Luckily, as more people are looking for ways to live independently in their homes, home health care/accessibility companies are providing expert equipment to help them do so. Meanwhile both federal, provincial, and local governments around Canada are working to provide programs to help fund this equipment.
HAFI (Home Adaptations For Independence) is one of these programs run through BC Housing. The program provides seniors and people living with disabilities with up to $20,000 dollars in annual funding for home accessibility renovations.
In this article we'll look at thre vital home adaptations for independence covered by HAFI. For more information about the program, check out our previous post or contact us today.
For a full list of HAFI eligible renovations, click here.
HAFI Renovations: Home Adaptations for Independence
Grab bars, Handrails, and Vertical Poles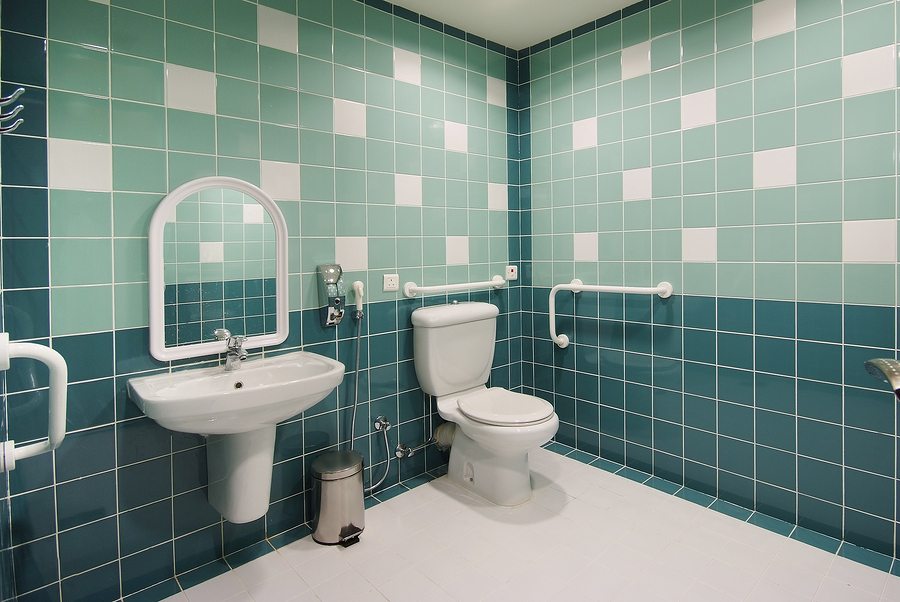 Falls are the leading cause of injury among seniors. According to Veterans Affairs Canada, falls account for more than half of all injuries among the elderly, and 1 in 3 people aged 65 or over experience a fall every year.
Luckily falls are also the most preventable health risk for senior Canadians. Grab bars and handrails are simple inexpensive tools to help you minimize your risk of falls around the house. They are specifically designed to provide support and balance to people with decreased mobility.
Many people tend to use towel bars or pieces of furniture as weight support which can prove extremely dangerous. Towel bars can snap and unstable pieces of furniture can move or fall as they are not designed to support the full weight of a person. This can easily result in serious injury.
Grab bars and handrails, on the other hand, are specifically designed to withstand the weight of a person. They can provide reliable support around the house in areas like the bathroom, steps/stairs, or along corridors, and help stop a little slip from turning into a nasty fall.
Vertical poles are also extremely useful, especially if you struggle to get in and out of bed, sofas, lounge chairs, or recliners. They can also be installed in the bathroom for people who have difficulty getting on and off the toilet.
The purchase and installation of grab bars, handrails, and vertical poles is completely covered by HAFI. To find out how to apply for HAFI funding for these installations, click here.
Entrance Ramps
The first point of access to your home is the entrance. However, standard home entrances are generally not designed to cater for the elderly or people with disabilities.
If you're a wheelchair user or you suffer from mobility issues or low dexterity/stamina, tackling things like steps or uneven paths can be extremely challenging. Slippery surfaces, steep rises, and lack of proper railing are also major concerns for anyone looking to live independently in their home.
Entrance ramps can provide a comfortable, secure solution for you to overcome these challenges, and are considered a recommended primary preventative measure of falls by the Ministry of Health of British Columbia.
Entrance ramps can be custom built to suit your your home and personal needs. Modular or wooden ramps are permanent structures made from extremely durable, weather-resistant materials, and can be easily serviced or upgraded with accessories should your needs change in the future.
The installation of permanent entrance ramps is covered by HAFI under the "Approaching and Entering the Dwelling" category for adaptations. This also extends to the installation of canopies or shelters to protect ramps from the weather.
Non-permanent equipment is generally not covered by HAFI, and that generally extends to portable ramps as well. For more information about entrance modifications covered by HAFI, click here.
Stairlifts
Stairs are another area of the house that present seniors with a variety of challenges and risks. According to the University of Ottawa's Community Health Research Unit, roughly 10-15% of all senior falls involve the stairs. While falls on stairs account for only about 10% of fatal falls in Canada, over 70% of people who suffer a fatal fall on the stairs are aged 65 years of older.
Those numbers come as no surprise; a simple trip on the stairs can be a concern for anybody, and navigating steep stairs tends to be beyond the capacities of most people with reduced mobility.
Hence, most seniors or people with disabilities who choose to live independently in their own homes invest in a stairlift. Built with user independence in mind, stair lifts give people the autonomy to move around the house without assistance.
Stairlifts are commonly available in straight or curved configurations and come with a variety of features to increase usability, including height-adjustable seats, speed regulators, safety belts, and much more. Outdoor stairlifts are also available to help people with reduced mobility access the outdoor areas of their homes
The purchase and installation of both indoor and outdoor stairlifts is covered by HAFI under a variety of categories for home adaptations. To find out how to apply for this program, click here.
Contact Home2Stay Today
Dreaming of staying in your own home regardless of your age or disability? Well, you can. For more information about home health care/accessibility equipment and the HAFI program, contact us today.